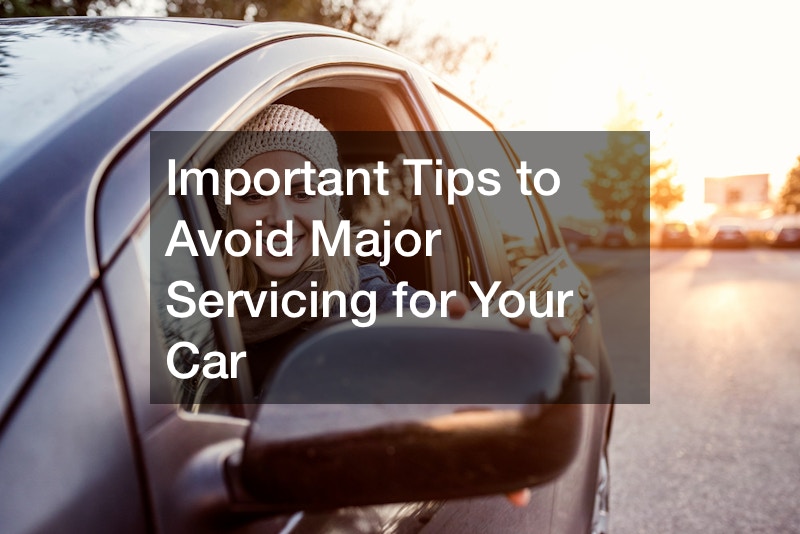 Owning a car comes with a responsibility to ensure its proper maintenance and avoiding costly repairs. Regular servicing is recommended to keep your vehicle running smoothly and extend its lifespan. Fortunately, as you'll find out in this article, there are several steps you can take to minimize the need for major servicing and keep your car in excellent condition. Keep reading.
Know How to Diagnose
Diagnosing potential issues with your car is an essential skill that can help you avoid major servicing and costly repairs. By being proactive and identifying problems early on, you can address them before they escalate into more significant and expensive complications. One effective approach is to apply the ' 80 20 rule,' which suggests that 80% of problems can be traced back to 20% of potential causes. This means that by focusing on the most common culprits, you can quickly narrow down the source of the issue.
To diagnose problems, pay attention to any unusual sounds, smells, or vibrations from your vehicle. These can provide valuable clues about potential issues. Additionally, keep an eye on warning lights on your dashboard, as they often indicate specific problems that require attention. Consult your car's manual or do some research to understand what each warning light represents.
Furthermore, invest in a reliable diagnostic tool that can read error codes from your car's onboard computer. These codes can provide valuable insights into potential issues, helping you pinpoint the specific area that requires attention. However, keep in mind that diagnostic tools are not foolproof and may require additional expertise to interpret the results accurately.
Eliminate Pests
Unwanted critters like rodents, insects, and even birds can wreak havoc on your vehicle's interior, wiring, and components. Taking proactive pest control measures will not only protect your car but also ensure your own safety and peace of mind while driving. One of the most effective ways to keep pests at bay is by practicing good hygiene and cleanliness in your car.
Regularly clean your car's interior, removing any food crumbs, wrappers, or spills that can attract pests. Vacuum the seats, floor mats, and crevices to eliminate any hidden debris that may serve as a food source. Moreover, make sure to dispose of trash properly and avoid leaving food or beverages inside the car, especially overnight.
Consider using natural repellents or pest control products specifically designed for cars. These can include sprays, pouches, or ultrasonic devices that deter pests from entering your vehicle. Place them strategically in areas prone to infestation, such as the trunk, engine bay, or near air vents.
If you suspect a pest infestation in your car, it's important to address it promptly. Contact a professional pest control service that specializes in automotive pest management. They have the expertise and tools to safely remove pests and prevent further damage to your vehicle. Taking swift action can save you from major servicing and ensure your car remains pest-free.
Maintain a Smooth Driveway
A well-kept driveway will not only save you from costly car repairs but also enhances the appearance of your property and provides a comfortable and safe driving experience. One effective solution is driveway paving. Consider hiring professional commercial paving services who have the knowledge and equipment to assess your driveway's condition and recommend the best course of action. Whether it requires patching, sealing, or complete resurfacing, commercial paving specialists can ensure a smooth and durable surface.
Regular maintenance prolongs the lifespan of your driveway and avoids costly repairs. Routine cleaning to remove debris, dirt, and oil stains helps to prevent deterioration over time. Moreover, applying a sealant every few years protects the pavement from weather damage, chemicals, and UV rays.
Make sure to promptly address cracks and potholes promptly to prevent them from worsening and causing major servicing issues. Small cracks can be filled with asphalt crack filler, while larger potholes may require professional repair. Timely repairs not only maintain a smooth driveway but also prevent water infiltration that can lead to further damage. Lastly, practicing good driving habits can contribute to a smooth driveway. Avoid sudden stops, sharp turns, and excessive acceleration, as these actions can strain the pavement.
Utilize a Garage
A garage provides a protected and secure space for your car, shielding it from harsh weather conditions, vandalism, and theft. A major aspect of maximizing the benefits of a garage is proper garage door installation. Installing a high-quality garage door ensures that your vehicle is well-protected from external elements. It acts as a barrier against rain, snow, hail, and UV rays, which can cause damage to your vehicle's exterior and interior.
In addition to protecting your vehicle, utilizing a garage also helps maintain its overall condition. Parking your car inside shields it from prolonged exposure to the sun's rays, which can lead to paint fading and interior damage. It also prevents the buildup of ice, frost, and debris, reducing the need for extensive cleaning, major servicing, and potential damages.
A garage provides a controlled environment with more stable temperature and humidity levels compared to outdoor parking. This controlled climate helps preserve your car's mechanical components, such as the battery, engine, and tires, reducing the risk of malfunctions and extending their lifespan. A consistent temperature can prevent fuel and fluid issues that may arise from extreme temperature fluctuations.
Protect Your Car From Weather
Extreme weather refers to severe and unpredictable atmospheric conditions characterized by intense phenomena such as hurricanes, tornadoes, blizzards, or heat waves. Hurricanes, in particular, pose significant risks to your vehicle creating a need for major servicing. One effective way to safeguard your car is by investing in hurricane safe garage doors.
Hurricane safe garage doors are designed to withstand high winds, flying debris, and other elements associated with severe storms. These doors are constructed using reinforced materials and advanced engineering techniques, providing advanced protection for your vehicle during extreme weather events. Have peace of mind knowing that your car is secure and shielded from the destructive forces of hurricanes.
In addition to hurricane-safe garage doors, there are other measures you can take to protect your car from different weather conditions. Park in shaded areas during hot summer and use a car cover or park in a sheltered area during winter to shield your vehicle from snow, ice, and freezing temperatures. Lastly, invest in comprehensive insurance coverage that includes protection against weather-related damage.
Keep Your Car Clean
Keeping your car clean is essential to avoid major servicing and maintain its overall condition. Frequent car cleaning not only improves the vehicle's appearance but also helps protect the exterior. It removes dirt, dust, and debris that accumulate on the exterior surface, preventing scratches, paint damage, and rust. It also eliminates harmful substances like road salt, bird droppings, and tree sap, which can degrade the paint and finish of your car.
Car washing is not limited to the exterior; it also includes cleaning the interior. Vacuuming and wiping down the interior surfaces remove dirt, dust, and allergens, creating a clean and hygienic environment. It also helps preserve the quality of upholstery, carpets, and interior components. For thorough cleaning, you'll need a vacuum cleaner, microfiber towels, soft brushes, and interior cleaning solutions for removing dust, dirt, and debris from surfaces such as seats, carpets, and dashboards.
Paying for a professional car washing service is recommended for several reasons, including time-saving convenience and a high-quality cleaning result. The cost of professional car washing services ranges from $10 to $20 for a basic exterior wash and interior cleaning. A more comprehensive service like full detailing costs between $50 to $300.
Let an Expert Take a Look
Having an expert check your car allows for a comprehensive inspection of its various components, including the engine, brakes, suspension, and electrical systems. They can identify potential issues, such as worn-out parts, leaks, or malfunctions, which might not be immediately apparent to the untrained eye. By detecting these problems early on, you can address them promptly and avoid more significant servicing needs down the line.
Auto mechanics are trained professionals who stay updated with the latest automotive technologies and repair techniques. Their expertise extends beyond simple maintenance tasks, as they can provide valuable recommendations on proper care, maintenance schedules, and potential upgrades for your specific vehicle. Their insight can help you make informed decisions that promote the longevity and optimal performance of your car.
Moreover, relying on an auto mechanic can give you peace of mind. They adhere to industry standards and best practices, ensuring that any repairs or maintenance tasks are performed correctly and safely. Their expertise and attention to detail can help you avoid costly mistakes or DIY mishaps that might lead to further damage, unsafe driving conditions, or major servicing.
Keep Up With Maintenance
Keeping up with maintenance is vital for the overall well-being of your vehicle and to avoid costly repairs in the long run. Regular maintenance tasks, performed by qualified mechanics, help identify potential issues early on and ensure that your car is in optimal working condition. Neglecting maintenance can lead to more significant problems that may require major repairs, resulting in higher costs and inconvenience.
Several key parts of your vehicle require regular maintenance to prevent major servicing needs. This includes the engine, transmission, brakes, tires, and suspension components. The engine, for example, needs regular oil changes and filter replacements to keep it properly lubricated and running smoothly. Neglecting these maintenance tasks can result in engine damage and reduced performance.
The specific intervals for maintenance tasks may vary depending on factors such as the make, model, and mileage of your vehicle. As a general guideline, it's recommended to have an oil change every 5,000 to 7,500 miles (8,000 to 12,000 kilometers) or every six months, and a tire rotation every 5,000 to 7,500 miles (8,000 to 12,000 kilometers) to ensure even tire wear. Follow your car manual for optimal vehicle performance.
Ensure Your Car is Safe
Ensuring the safety of your car is of utmost importance. Brakes play a crucial role in stopping your vehicle safely. Over time, brake pads wear down, reducing their effectiveness and compromising your ability to stop quickly. Routine brake inspections by qualified mechanics can detect issues such as worn brake pads, leaks in the brake system, or brake fluid deterioration. Addressing these problems promptly can prevent brake failure and ensure your car's safety.
Likewise, proper wheel alignment is vital for maintaining stability and handling. Misaligned wheels can cause uneven tire wear, poor steering response, and compromised vehicle control. Regular wheel alignment checks and adjustments help ensure that your car's wheels are properly aligned with the manufacturer's specifications. This improves overall handling, maximizes tire life, and enhances safety on the road.
In short, by timely addressing brakes and wheel alignment you minimize the risk of accidents and the need for major vehicle servicing. Timely brake pad replacements, brake fluid flushes, and wheel alignment adjustments not only contribute to the longevity of your car's braking system and tires but can also save your life. Don't overlook these critical components when it comes to your car's safety.
Invest in Quality Insurance
When considering auto insurance, it's important to assess your coverage needs. A comprehensive policy typically covers damage to your vehicle, liability for bodily injury or property damage to others, and medical expenses for you and your passengers. This coverage comes in handy when mitigating the financial burden of major servicing and repair costs resulting from accidents or other covered events.
Quality auto insurance policies also offer additional benefits, such as roadside assistance, rental car reimbursement, and coverage for uninsured or underinsured motorists. These extras provide added protection and convenience, ensuring that you have the necessary support in various situations. To find the right auto insurance policy, compare quotes from multiple reputable insurance providers.
Consider factors such as coverage limits, deductibles, and customer reviews to make an informed decision. Make sure to strike a balance between affordable premiums and adequate coverage to protect yourself from financial hardship in the event of major servicing needs or unexpected incidents. Remember, 'Insurance is the safety net that helps you bounce back when life throws you a curveball.'
Taking care of your car is not only a matter of convenience but also a smart financial decision. Prioritize regular maintenance, timely repairs, and preventive measures to catch small issues before they escalate into problems that require major servicing. While at it, seek the expertise of car experts, utilize proper tools and techniques, and invest in quality insurance for additional layers of protection.