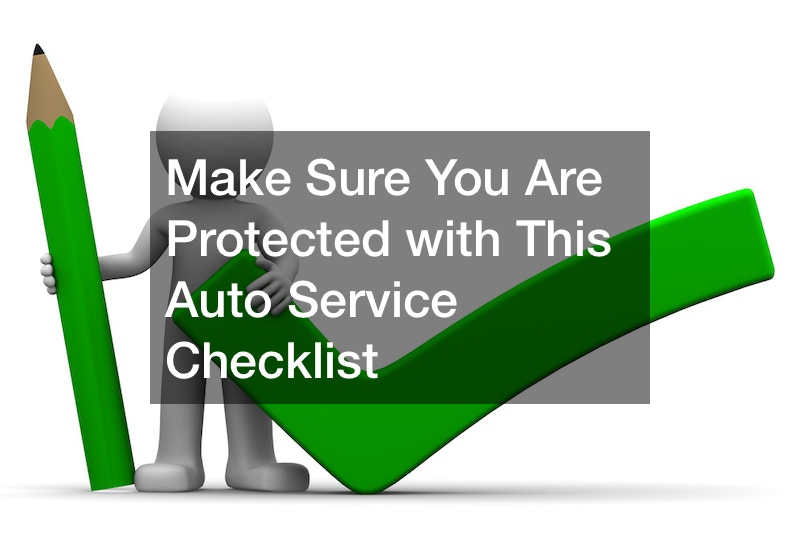 You love your car. You've spent countless hours driving it, and it's been with you through thick and thin. However, as with anything in life, your car will eventually need some TLC. Whether it's time for an oil change or your tires need to be rotated, it's important to keep up with your car's maintenance. Luckily, we've put together an auto service checklist to help you keep track of everything your car needs. By following this checklist, you can avoid costly repairs down the road and make sure your car is always running optimally.
1. In Case Your Car Breaks Down
Assuming your car has broken down and you're now stuck on the side of the road, you'll need to take certain steps to ensure you and your car are taken care of. First, get your car off of the road and out of the way of oncoming traffic if you can. This will help to keep you and your car safe as you work on getting it back up and running. Once you're in a safe spot, assess the situation and see if you can identify what the problem is.
If you can't figure it out, don't worry, there are still things you can do. If you have a phone, now is the time to use it. Call a friend or family member for help, or call a tow truck service to take your car to a nearby service station. If you don't have a phone, or if you can't get a hold of anyone, your best bet is to start walking. Find a nearby business or residence and ask to use their phone. Once you have a way to contact someone for help, you can start working on getting your car back on the road.
2. In Case You Need a New Car Quickly
When and where you need a new car quickly, here is a basic auto service checklist on steps to take:
Research what type of car you want/need. This may include consulting reviews and test driving
Find a reputable dealership or a used car salesman. This might involve asking for referrals, and reading reviews
Get a competitive quote. This may involve some negotiating
Take the car for a test drive. Drive on different types of roads and try out different features
Have a professional inspect the car
Make sure all paperwork is in order. This includes the bill of sale, registration, and insurance
Drive your new car home
3. In Case You Need to Sell Your Car Quickly
If you need to exchange your car for cash quickly, here is an auto service checklist to perform:
Get an oil change. This will ensure your car is running smoothly and help it last longer
Check your brakes. Making sure your brakes are in good condition is important for both your safety and the safety of potential buyers
Check your tires. Tires that are in good condition will help your car run more efficiently and handle the road better
Wash and wax your car. A clean car is more appealing to potential buyers and may help you get a higher price
Vacuum the interior. A clean interior will make your car more inviting and help it sell faster
4. In Case You Need to Prove a Claim
It's always a good idea to have an auto service checklist on hand in case you need to prove a claim. Here are five things you should always include on your list:
The date and time of the service
The name and contact information of the service provider
A detailed description of the services provided. These services may include but aren't limited to, car dashboard cameras
The cost of the services
Any warranties or guarantees that were provided
Keep this auto service checklist handy and you'll be prepared in case you need to make a claim.
5. In Case You Need to File a Claim
It is important to keep track of all the maintenance and repairs that you have done to your car. This will come in handy if you ever need to file a claim with your insurance company. Here is an auto service checklist of things to keep track of
Keep all receipts for any work you have done to your car. This includes things like oil changes, tune-ups, and new parts
Keep a record of when you last had your car serviced. This information will be helpful to your insurance company
Keep your car in good working condition. This means regularly checking things like the oil level, tire pressure, and brakes
If you're involved in an accident, ensure you get the other driver's information. This includes their name, address, phone number, and insurance information
Take pictures of the damage to your car. This helps process your claim
Contact your insurance company as soon as possible after the accident. They'll need all the details to process your claim
Be prepared to answer questions that the insurance company may have. You mustn't walk this journey without the services of a car accident injury lawyer
6. In Case You Need a Paint Job
You'll need to check with your local auto service center to see if they offer a paint job. If they do, you'll need to follow their specific instructions. Here is a general auto service checklist of what you will need to do:
Make an appointment for your paint job
Choose the color you want and purchase the necessary paint
Prepare your vehicle for painting by removing all loose paint, rust, dirt, and grime
Apply a primer to the vehicle if necessary
Paint the vehicle using a brush, roller, or sprayer
Allow the paint to dry completely
Apply a clear coat to the vehicle if desired
Allow the clear coat to dry completely
Get auto paint protection for your safety
7. In Case You Need Body Repair
You will need the following auto service checklist when having auto body repair done:
Make sure the shop is reputable and has a good history. You can check online reviews or ask friends and family for recommendations
Get an estimate of the cost of the repairs to get an idea of how much you'll need to spend
Make sure that the shop has the proper equipment to do the repairs, which includes things like sanders, paint guns, and other tools
Ask about the warranty for the repairs. This will protect you in case something goes wrong with the repairs
Make sure the shop uses quality parts. This includes things like replacement panels and paints
Ask about the turnaround time. This is crucial, so you can make alternative plans in the days leading to that time
Make sure the shop is clean and organized. A clean and organized workspace improves efficiency and ensures that repairs are done properly
Ask about the payment options. This is important, so you can choose the option that's best for you
Make sure you're comfortable with the shop. This is important since you will be trusting them with your car
8. In Case You Need a New Transmission
Here is your auto service checklist for a new transmission:
Check your transmission fluid level and condition at least once a month. If it's low, top it up. If it's dirty, have it flushed and replaced
Listen for strange noises when you're driving. If you hear grinding, whining, or humming, it could be a sign that your transmission is having trouble
Pay attention to how your car is driving. If it's slipping out of gear, taking longer to shift, or feels like it's 'shuddering,' get it checked out
Get your transmission serviced regularly. This means having the fluid changed and the filter replaced as needed
If you do a lot of towing, or if you drive in stop-and-go traffic, have your transmission serviced more often
If you notice any leaks, visit a transmission shop and have them fixed as soon as possible. Transmission fluid leaks can lead to big problems, later on,
If your car has an automatic transmission, have the transmission serviced every 30,000 miles or so. If it's manual, have it done every 60,000 miles
Keep an eye on your transmission temperature. If it starts to run hot, have it checked
If you're having transmission problems, get them fixed right away. Don't wait until it gets worse, and if you're not sure what's wrong with it or how to fix it, get professional help.
9. In Case You Need An Oil Change
You will need to gather the following items before you start: a socket set, a wrench set, a screwdriver set, a hammer, and a pair of pliers. Once you have your supplies, consider this auto service checklist:
You'll want to consult your owner's manual to find out what type of oil and filter your truck uses
Once you have gathered all of the necessary items, jack up your truck and place it on jack stands
Next, start removing the oil drain plug and drain the used oil into a catch pan
Remove the old oil filter and install a new one
Finally, add the new oil to your truck, and be careful not to overfill it
Once you have finished all the above steps, lower your truck, put back your truck accessories, and take it for a test drive to make sure everything is working properly. If everything seems to be working fine, you have completed an oil change!
10. In Case Your Garage Door Breaks
Before you begin fixing your garage door, gather the tools and materials you'll need: a screwdriver, a hammer, a flashlight, a tape measure, pliers, a level, and a ladder. Next, follow this auto service checklist:
Inspect the door and opener for any visible damage. If you see any, proceed with caution and consult a professional for an expert garage door service
Check the tracks for dents, cracks, or other damage. Use a screwdriver to loosen bolts or screws and tap the tracks back into place
Inspect the rollers for wear or damage. If they're damaged, replace them
Check the cables for fraying or damage. If they're damaged, replace them
Lubricate the tracks, rollers, and hinges with a lubricant designed for garage doors
Check the balance of the door. If it's unbalanced, adjust the springs accordingly
Check the opener for proper operation. If not working properly, troubleshoot the problem and do repairs as necessary
Test the door by opening and closing it several times. Adjust the opener's force setting as needed
If the door still isn't operating properly, consult a professional. Once the underlying issues are addressed, perform regular maintenance to keep it in good condition. If you've any questions or concerns, consult a professional.
11. Have Your Timing and Serpentine Belts Checked
One of the most crucial, yet overlooked, components of your automobile is the serpentine belt. These belts, which are often composed of rubber, are used to drive and aid in the timing of several crucial auto components, including the alternator, power steering, AC condenser, and water pump. Your engine may overheat and stop working if these components are damaged. The performance of your automobile largely depends on the serpentine belt, which requires maintenance.
12. Examine the Brake Pads and Spark Plugs
Spark plugs must be in good condition for smooth engine operation. But much like the battery, your spark plugs tend to accumulate buildup. The engine is forced to work harder to generate a spark when using dirty spark plugs. Typically, you should perform a check once a year. Have your mechanic check them for you.
If you're looking for an auto service checklist that offers protection to customers, you've come to the right place. We understand the importance of customer satisfaction and safety. That's why we've created a checklist that covers all the bases, from oil changes to tire rotations.
We know that your time is valuable, so we've made sure that our checklist is easy to follow and understand.