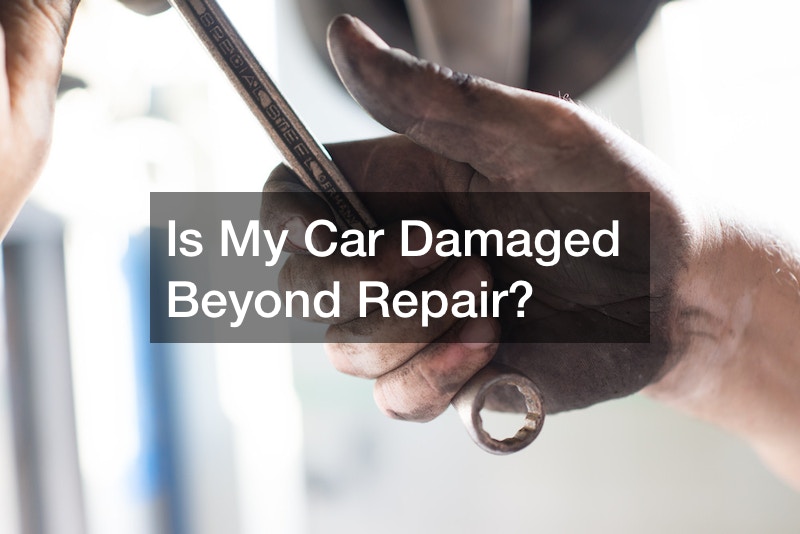 Discovering that your car has suffered significant damage can be disheartening, raising concerns about whether it's truly damaged beyond repair. However, there's good news: numerous auto repairs and replacements exist that can potentially revive your vehicle, even in the face of extensive damage. This guide delves into repairs and replacements that offer a glimmer of hope for salvaging your car, eliminating the need for a costly new purchase.
Engine Replacement
Engine replacement is a comprehensive process that involves a thorough auto inspection to determine if your engine is damaged beyond repair after an accident. If your engine is deemed irreparable due to catastrophic failure or extensive damage, an engine replacement becomes necessary. This procedure entails removing the old engine and replacing it with a new or rebuilt one. The process requires meticulous disassembly, proper alignment, and careful installation of the replacement engine to ensure optimal performance.
Engine replacement services are typically conducted by professional auto repair shops and engine replacement specialists. These service providers have skilled technicians who possess the expertise to handle engine replacements effectively. They have access to a range of replacement engine options and can assist you in selecting the most suitable one for your vehicle. Whether you choose a brand-new engine or a rebuilt one, these services can efficiently carry out the replacement to get your vehicle up and running again.
The cost of engine replacement services can vary depending on several factors, including the make and model of your vehicle, the type of replacement engine chosen, and the extent of labor required. On average, engine replacement costs range from $2,500 to $4,000 or more. Rebuilt engines generally offer a more budget-friendly option, while new engines from the manufacturer tend to be more expensive. To get an accurate estimate for your specific vehicle and engine replacement needs, it's recommended to consult with the service provider.
Suspension System Overhaul
A suspension system overhaul involves examining and refurbishing or replacing various components of your vehicle's suspension system. This includes the springs, shocks or struts, control arms, and other associated parts. The process aims to restore the functionality and performance of the suspension system, enhancing ride comfort, stability, and overall handling of your vehicle. It may also involve realigning the suspension geometry to ensure proper wheel alignment.
Apart from accidents, there are several other factors that cause damage to your suspension system, such as regular wear and tear, potholes, and rough road conditions. Over time, these factors can lead to components becoming worn, bent, or damaged beyond repair. When the suspension system is damaged to a point where it affects the safety and drivability of your vehicle, a suspension system overhaul becomes necessary to address the issues and prevent it from being damaged beyond repair.
There are several benefits to undergoing a suspension system overhaul. Firstly, it improves the overall ride quality by restoring the suspension's ability to absorb shocks and bumps. This enhances passenger comfort and reduces the impact on other vehicle components. Secondly, it improves vehicle stability and handling, allowing for better control during cornering, braking, and maneuvering. Enjoy a smoother and safer driving experience with suspension repair.
Paintless Dent Repair
Paintless Dent Repair (PDR) is a technique used to remove minor dents and dings from the body of your vehicle without the need for painting or extensive bodywork. This method is commonly employed by auto collision service providers to restore the appearance of your vehicle after an accident. During PDR, specialized tools are used to carefully massage and reshape the damaged area from the inside out, gradually restoring the metal back to its original form.
PDR requires the use of specialized tools designed specifically for this purpose. These tools include metal rods, picks, and specially shaped hooks that allow technicians to access the backside of the dent. By strategically applying pressure and manipulating the metal, technicians can gradually and gently push the dent out, without causing any further damage to the paint or the surrounding area. Car detailing techniques may also be utilized to further enhance the finished appearance by polishing and cleaning the repaired area.
The cost of paintless dent repair can vary depending on factors such as the size and severity of the dent, the location of the dent on the vehicle, and the expertise of the technician. On average, the cost of PDR can range from $70 to $150 per dent. However, more extensive or complex dents may incur higher costs. It's recommended to consult with a reputable auto body repair shop or PDR specialist to obtain an accurate estimate based on your specific dent repair needs.
Windshield and Window Replacement
Windshield and window replacement becomes necessary when the glass is damaged beyond repair. Cracks, chips, or shattered glass not only compromise the structural integrity of your vehicle but also obstruct your visibility and pose safety risks. In such cases, replacing the windshield or window is important to restore the functionality and safety of your vehicle.
When it comes to windshield and window replacement, it's important to choose the best fit for your vehicle. Consulting with an experienced auto body shop or glass specialist is recommended. They can accurately assess the type of glass required for your specific make and model, ensuring a proper fit and compatibility with your vehicle's frame and mechanisms. Professional installation by skilled technicians helps guarantee a secure and watertight seal.
In addition to windshield and window replacement, you may also consider window tinting. Window tinting provides numerous benefits, including increased privacy, reduced glare, and protection against harmful UV rays. Many auto body shops or glass specialists offer window tinting services alongside replacement. You can choose from a variety of tint levels to suit your preferences and local regulations. It's worth noting that window tinting regulations may vary by jurisdiction, so ensure compliance with local laws and regulations.
Electrical System Repairs
The electrical system in a car comprises various components that play huge roles in powering and controlling different functions of the vehicle. These components include the battery, alternator, starter motor, wiring, fuses, relays, switches, lights, and various sensors. Together, they ensure the proper operation of essential car parts such as the engine, lights, climate control, entertainment systems, and more.
Determining whether the electrical system is damaged beyond repair after an accident can be challenging without proper diagnosis. However, signs of electrical system issues may include flickering lights, a dead battery, malfunctioning or unresponsive components, intermittent electrical failures, or the presence of burning smells or melted wires. Consulting with a qualified auto technician or electrician is recommended to assess the extent of the damage and determine if repairs or replacements are necessary.
Regular auto maintenance is of utmost importance to prevent electrical system issues. Keeping your vehicle well-maintained, including routine inspections, servicing, and addressing any warning signs promptly, can help identify and rectify potential electrical problems before they worsen. Make sure also to adhere to the manufacturer's recommended maintenance schedule and seek professional assistance for electrical system repairs to ensure the reliability and longevity of your vehicle's electrical system.
Brake System Overhaul
Brake replacement is of utmost importance for a car that has been damaged beyond repair. The braking system is a critical component that ensures your safety on the road. When your brakes are damaged or worn beyond repair, it's crucial to have them replaced promptly to restore the braking performance of your vehicle. Neglecting brake replacement can lead to compromised braking power, reduced control, and increased risks on the road.
A well-maintained brake system contributes to the extended lifespan of your vehicle. Regular maintenance and timely brake replacements help prevent excessive wear and tear on various components of the braking system. By ensuring that your brakes are in optimal condition, you reduce the risk of further damage and prolong the overall longevity of your vehicle. A properly functioning brake system also minimizes stress on other vehicle components, such as the suspension and tires, further extending their lifespan.
A brake system overhaul becomes necessary in several instances. It's recommended when your brakes show signs of significant wear, such as squeaking, grinding, or reduced braking performance. Additionally, if you frequently experience brake problems despite repairs or if your brake pads and rotors require frequent replacement, a comprehensive brake system overhaul may be needed. This process involves inspecting and replacing various components, such as brake pads, rotors, calipers, and brake lines, to ensure that your brake system is restored to optimal condition.
Wheel Alignment and Balancing
Wheel misalignment occurs when the angles of your car's wheels deviate from the manufacturer's specifications. Wheel misalignment often results from impact or structural damage and can render your car damaged beyond repair. It causes uneven tire wear, poor handling, and an overall uncomfortable driving experience. Addressing wheel misalignment is vital to restore proper alignment and ensure optimal performance and safety.
Wheel alignment and balancing help bring your dead car back to life by optimizing tire contact with the road surface. Proper alignment ensures that all four wheels are positioned correctly, allowing for smooth and even tire wear, improved handling, and enhanced steering response. Balancing involves redistributing weight evenly across each wheel and tire assembly, reducing vibrations, and improving ride comfort.
The cost of wheel alignment and balancing services may vary depending on factors such as the location, the type of vehicle, and the extent of misalignment or imbalance. On average, you can expect to pay between $55 and $200 for wheel alignment and between $30 and $100 for wheel balancing. Prices may differ among car wheel repair companies and may also be influenced by any additional services or adjustments required. It's recommended to consult with reputable car wheel repair companies in your area to obtain accurate cost estimates based on your specific needs and the condition of your damaged car.
Air Conditioning System Repairs
Common air conditioning issues in a damaged beyond repair car include a lack of cool air, weak airflow, strange odors, or unusual noises coming from the system. These problems may arise due to damaged components, leaks, electrical issues, or refrigerant depletion. Addressing these AC issues is important to restore comfort during your drives and ensure a pleasant driving experience.
Air Conditioning System Repairs can help bring your car back to life by restoring the functionality and performance of the AC system. Expert ac repair technicians diagnose the root causes of the issues, repair or replace faulty components, fix leaks, recharge the refrigerant, and ensure proper electrical connections. By doing so, they restore the cooling efficiency, airflow, and overall performance of the air conditioning system, allowing you to enjoy a comfortable and refreshing driving environment.
Car Air Conditioning System Repairs have seen major advancements in recent years including AC technology, such as improved refrigerants that are more environmentally friendly, enhanced energy efficiency, and the integration of smart controls. Furthermore, car manufacturers are prioritizing the development of eco-friendly AC systems with reduced greenhouse gas emissions. These trends aim to provide better performance, energy efficiency, and environmental sustainability in air conditioning systems for vehicles.
Frame Straightening
Frame straightening is a crucial process for a damaged beyond repair car, as it involves restoring the structural integrity of the vehicle's frame. The frame serves as the foundation, providing support and stability to the entire vehicle. After a collision or significant impact, the frame can become misaligned, affecting the overall safety and performance of the car.
According to Carsuarance, approximately 50% of all cars involved in accidents require some form of frame straightening. Signs that your car's frame may need straightening include uneven tire wear, misaligned body panels, doors that do not close properly, or a crooked steering wheel. Ignoring frame misalignment can lead to further issues, such as poor handling, suspension problems, and compromised crashworthiness.
Paragraph 3: Frame straightening costs can vary depending on the extent of the damage, the make and model of the vehicle, and the location. On average, frame straightening services can range from $500 to $2000. Investing in frame straightening is a worthwhile expense, as it ensures the structural integrity of your vehicle, restores its value, and most importantly, enhances your safety on the road.
"Where there's a will, there's a way." When faced with a significantly damaged car, it's essential to remember that there are solutions available to repair and restore it. From engine replacement to suspension system overhaul and paintless dent repair, skilled professionals have the expertise to bring your car back to life. So, instead of being discouraged by the damage, take action and explore the options that can transform your "damaged beyond repair" car into a roadworthy and reliable vehicle once again.