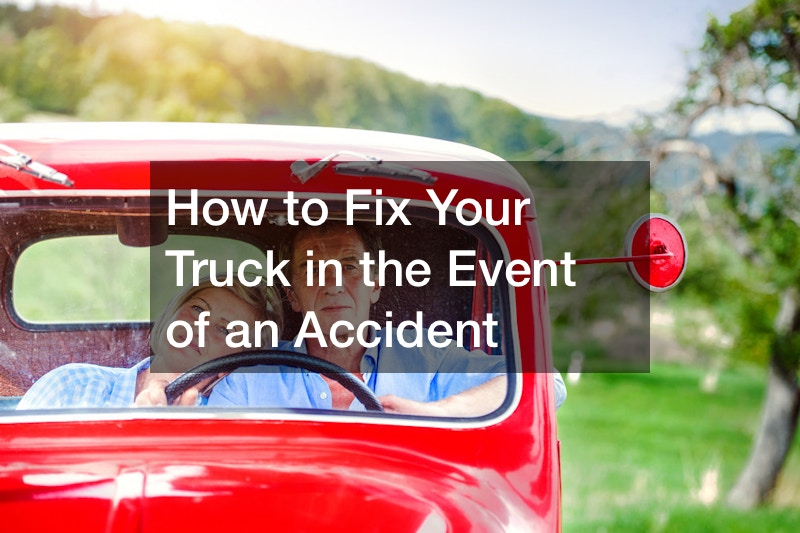 According to car accident statistics by Forbes Advisor, there were over five million vehicle crashes in the U.S. in 2020. Therefore, there's a high chance you can be involved in a collision when driving your truck on the roads. And even if you escape unscathed, your vehicle might not be so lucky, thus, requiring various repairs. If you're facing such a situation, below are top truck refurbishment tips that can help you get your vehicle fixed and ready for the road again.
Assess the Damage to Your Truck
According to the Insurance Information Institute, assessing the damage to your car is one of the top things to do immediately after an accident. It serves several purposes, from supporting your insurance claim to providing evidence in case of a trial. But most importantly, it will help you identify the parts of your vehicle you need to fix and the truck refurbishment services you need to hire before getting on the road again.
When assessing your car for damage, you should note that some issues might be hidden, only to crop up later, especially if the accident was not severe. Therefore, you need to be on the look for signs that your truck requires repairs. The top tell-tale signs of a hidden problem include warning dashboard lights, funny engine noises, leaking fluids, reduced performance, loose brakes, etc. In addition, you shouldn't ignore simple things, for example, sticking doors, as this might require you to visit a car locksmith to fix the locks.
Lastly, you should still consider hiring truck repair services even if your vehicle seems or feels fine. This is because some of the hidden issues can't be detected easily, which can cause them to worsen over time, leading to costly repairs. So, to avoid this, you should visit a mechanic who can conduct a more thorough assessment of your vehicle, thus ensuring it's safe to drive again.
File an Insurance Claim
Repairing your vehicle after an accident can be expensive. For example, according to Consumer Affairs, replacing a damaged engine can incur you between $2,500 and $10,000. This can be too hefty if you must pay for it out of your pocket. Therefore, filing an insurance claim for the damages sustained is one of the top truck refurbishment tips that help to restore your vehicle.
Depending on your car insurance and the accident's circumstances, you can consider several options when filing a claim. For example, you can use your collision coverage to fix the damages to your truck if you were at fault in an accident. In addition, you can file a claim against the other driver's insurance company if they were at fault. Lastly, you can use your comprehensive coverage for damages sustained by a non-collision accident like a hail storm.
Whatever option you opt for, you'll still need to inform the insurance company and get started on the claim. And even if you plan to file for compensation against the other driver, contacting your primary auto insurance provider is vital. This can help smooth out the process, especially if the other driver's insurance coverage is insufficient to cover your truck's damages.
Choose a Reliable Auto Repair Shop
Once you have filed a claim with the insurance company, the next step in your truck refurbishment process is to find a reliable auto repair shop. Of course, the insurance provider covering the repairs might have preferred auto mechanics, and you can choose one from their list. However, according to CarInsurance101, it's still within your rights to use a repair shop outside the insurance company's preference — without affecting your insurance claim.
One of the top options for getting your truck fixed is to use a local auto repair center you trust. This can be very helpful if you've used their services before; it will give you peace of mind that you're receiving quality repairs. Alternatively, you can ask for recommendations from family, friends, and colleagues or use the internet to find reliable auto truck mechanics near you.
Another top option is choosing a repair shop specializing in fixing the damage your vehicle sustained. For example, you can hire an auto hail repair service to fix your truck's body that was damaged during a hailstorm. Or you could take your vehicle to a body and paint repair shop if it only sustained damages to the body panels.
Lastly, when choosing an auto repair shop, you must ensure their mechanics are familiar with your truck type. This is particularly essential if your vehicle has suffered extensive damages that require more complex repairs. For example, in the case of an engine issue, you need qualified diesel repair technicians handling your car to ensure that the problem is fully fixed and doesn't worsen or reappear later.
Have Your Vehicle Inspected
Having an auto mechanic inspect your vehicle is another vital step in your truck refurbishment process. The inspection can offer many benefits, such as identifying hidden damage and providing an accurate estimate for insurance claims. In addition, according to BodyShop Business, a post-collision inspection can be an excellent precaution to ensure your truck is safe for the road.
During an inspection, your mechanic will assess all parts of your truck thoroughly for any signs of damage. However, there are vital areas and systems that they should pay attention to. One of these top areas is the suspension, which, under normal circumstances, should offer you a smooth ride and easier handling. Therefore, you should have it inspected if you notice issues like a bumpy ride and reduced drivability after a collision.
The brakes are another vital system for your truck. Under normal circumstances, your brake pedal should feel firm, and the braking should be gradual when you apply pressure. Therefore, you must have your mechanic inspect the braking system if your brakes feel loose or too sensitive or if you notice issues such as squealing, grinding, or scrapping noise when you apply the brakes.
Other vital areas that your mechanic should assess include the engine, tires & wheels, and the transmission system. It's also a good idea to check on the car's electrical and driver assistance systems (cameras, sensors, and other systems), as these can damage easily, even with minor impacts. Lastly, your truck repair technician should scan the vehicle for any diagnostic codes that the crash may have triggered.
Schedule Repairs for Your Truck
Once your vehicle has been inspected and you've handled everything with your insurance company, you can start caring for the repairs. The services you'll need for your truck refurbishment will vary depending on the damage sustained and the inspection report.But when they're completed, you can return to the road without worrying about your safety.
The body panels are one of the top areas to repair after an accident. Also, you'll likely need to hire an auto body paint technician to give your truck a new paint job. Of course, the cost will depend on the level of damage and size of your track, but the final bill for something like a paint job can reach up to $10,000 – according to J.D. Power.
Besides the body, tires are other parts of your truck that you might have to repair. Depending on the damage's severity, you can patch or replace your tires. You may also need other services, such as wheel alignment or replacement. According to NerdWallet, wheel alignment will cost you between $100 and $400, while tire replacement can cost you between $50 and $500 or more per tire, depending on the quality – according to Tire Hungry.
The airbags are another vital area to have repaired during your truck refurbishment process. According to Consumer Affairs, you can expect to spend between $1,000 and $6,000 fixing your airbags, depending on how many (and which ones) deployed during the collision. However, the costs can also be higher if the deployment damages other systems in your truck, like the airbag module, relay box, indicator lights, etc.
Order Replacement Parts for Your Truck
During your vehicle inspection, you may realize that some parts of your truck have sustained extensive damage to the extent that you need to replace them. Therefore, you may also need to order spare parts for the repairs. You can purchase original equipment manufacturer (OEM), after-market, or second-hand parts depending on your budget and preference.
New brake components are one of the top parts to purchase when repairing your truck after an accident. According to FIXD, new brake pads and rotors will cost you between $500 and $700. You can also incur additional costs for flushing and replacing the brake fluid, which can go up to $250 – according to Mechanic Base.
Besides the brakes, you may also need to conduct AC repair on your truck, requiring you to purchase replacement parts for the air conditioning system. Depending on the damage sustained, you might need components like a compressor, evaporator, blower fan, condenser, cooling hose, air filters, temperature sensors, etc. And according to Way.com, you can spend between $1,000 and $4,000 in parts replacements and labor when fixing your vehicle's AC system.
The engine is another area where you might need replacement parts when repairing your truck. This can include fuel, air intake, exhaust, cooling, lubrication, or electrical components. In addition, you might need to replace the entire engine, especially if involved in a severe head-on collision.
Get Your Truck Tuned Up
You can also include a tune-up in your truck refurbishment service when fixing it after an accident. This can be useful if you're behind on your scheduled maintenance or the next appointment is near. In addition, a tune-up can be an excellent way to boost the performance and safety of your vehicle before you get it on the road.
The engine is one of the top areas to focus on during a tune-up. Even if your truck's engine was not damaged during the accident, you can still boost its performance by replacing the air, fuel, and oil filters. Other top components you can replace for better performance include the PCV valves, belts, and hoses.
Electrics is another top area to consider tuning before you take your truck back on the road. For example, you can have your mechanic check the wiring and replace any parts damaged during the accident. You can also have your ignition system and battery assessed, repaired, or replaced if they are not in top condition.
Besides the performance, you can also boost your truck's aesthetic appeal and comfort by having it detailed. Detailing may also be necessary to eliminate dirt and debris caused by the accident or during the repairs. Therefore, you should find reliable auto detailers who can thoroughly clean the vehicle's interiors and exteriors, giving it a new and shiny look.
Talk to a Lawyer
In an ideal situation, you should not have an issue repairing your vehicle after an accident. But, unfortunately, you're likely to encounter legal challenges that you may not know how to navigate on your own. Therefore, talking to a car accident lawyer can help ensure you receive quality truck refurbishment services that allow you to get back on the road.
One of the top ways a car accident lawyer can help you is by dealing with insurance companies. For example, you might receive a low offer that can't cover your truck's repair costs. In addition, according to Bankrate, an insurance provider can deny your claim after an accident. In both these cases, a lawyer can negotiate on your behalf and ensure you're compensated fully.
Another top way an auto accident attorney can help you is when filing a claim against another driver who was at fault for your accident. In such a case, dealing with their insurance company can be challenging, making it essential to have someone representing your best interests. In addition, an attorney can help you when planning to sue the driver for other damages sustained, for example, injuries or wrongful death of a loved one.
Lastly, you might need an attorney if you were at fault during your accident. In such a situation, you may be liable for damages and injuries sustained by other third parties or even in trouble with the authorities. So, talking to a lawyer is the best way to protect yourself from potential lawsuits.
An auto accident can be a traumatizing experience that can leave you shaken. On top of that, you have to deal with getting your vehicle repaired, which can be full of several challenges. Fortunately, with the above truck refurbishment tips, you can have your car fully fixed and ready to hit the road again.