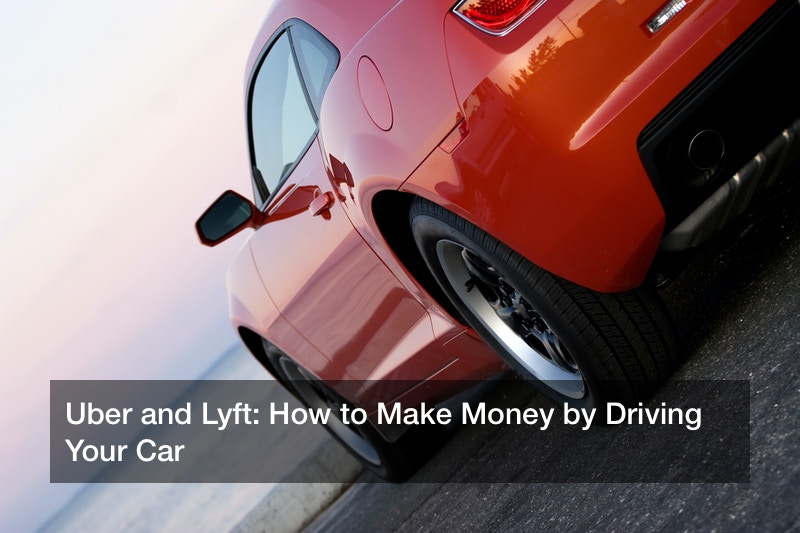 Whether you're someone who is looking to make a little cash on the side or someone who wants the flexibility and freedom of working their own hours, driving for Uber or Lyft might be just the job you're looking for.
Since Lyft launched in 2012, and Uber in 2009, millions of people are now making a living with their cars around the world. The benefits of being a driver include being your own boss, deciding when you work, meeting all different kinds of people, and providing an essential transportation service to those in need.
You may be asking yourself questions like "How does it work?", "How do you protect yourself as a driver?", and "How much can you make while driving your car for money?". This article will answer all of these questions and more. We will dive into what is required to sign up to drive, safety tips, when to utilize auto accident lawyers, how to maximize your profits, and other important details to know before you begin.
How to Sign Up with Uber and Lyft
If you are interested in driving your car for money, signing up to drive for Uber and Lyft is fairly straight-forward and easy to do. The first step of the process involves creating an application and giving the companies a bit of information about you and your vehicle. However, there are a few requirements that you will need to meet before you can sign up:
Meet the minimum age to drive in your city
Have a valid U.S. driver's license
Have a valid 4 door vehicle
Have at a minimum 1 year of experience driving in the U.S. (3 years if you are under 23)
After providing all of this in your application the companies will ask for documents verifying your information. These documents might include:
A copy of a valid driver's license
Vehicle insurance
Proof of residency
A background check
Once all of your documents have been verified and your application has been approved, all you'll need to do is download the app and you're good to go! Now you can provide all kinds of rides, from commuter ride-shares to airport transportation.
Protecting Yourself as a Personal Driver
With any job comes the issue of liability. Many new drivers wonder "How can I protect myself as a driver?" There are important steps that you should take to protect yourself. Both Uber and Lyft have great resources on their websites about driver safety. Here are a few of their tips if you are driving your car for money:
Verify your rider
Know and abide by your local traffic laws
Follow your intuition
Understand Lyft and Uber's insurance policies
Verifying your rider is a simple yet important step to ensuring that you have the right person in your car and can protect you from potentially dangerous passengers. So, when your rider steps in the car, simply ask them to verify their name. This way you know you have the correct passenger.
Secondly, it is extremely important that you know and abide by your local traffic laws, and stay focused on the road. For example, texting while driving is illegal in most states, so staying off your phone for personal calls and texts is the best protocol. Furthermore, having your passengers buckle their seat-belts and watching for pedestrians and cyclists can also help prevent crashes and lawsuits. Lastly, you should educate yourself on where you are allowed to drop off riders in order to avoid traffic offenses.
One of the most important tips to ensure driver safety is following your intuition and using your best judgement. Both apps have built-in 911 emergency buttons, and they recommend using that feature if you ever feel threatened. Once you engage the emergency button, your current location and vehicle information will be sent to a dispatcher. Additionally, it is within your rights to end a ride at any time if you feel uncomfortable.
If you do find yourself in an accident while on the job your course of action should be to:
Make sure that you and your rider are safe
Call 911 if needed
Contact support through the app
Lastly, it is crucial to understand both Lyft and Uber's third-party insurance policies, so you know when and how you are covered. Both apps cover up to a certain amount in damages for the driver while the app is turned on, both when they are on the way to pick up a passenger and during the ride itself. If you are driving your car but the app is turned off, any collisions or accidents would be covered by your own personal insurance. In the event that the damages exceed the amount covered by Uber or Lyft, drivers may want to seek legal counsel from an attorney versed in personal injury law.
How Much Money Can I Make?
The truth is your salary will vary depending on how many hours you work, when you work, and what kind of tips you receive. According to employment websites Uber and Lyft drivers make an average of about $16/hr. That being said, there are plenty of ways to maximize your earnings. Some of the things you can do to increase your paycheck are:
Take advantage of surge fares
Don't drive around endlessly
Be friendly
Use a vehicle that can handle more passengers
Utilizing a vehicle with a large number of passenger seats can make you a commodity for groups going out for a night on the town. If you don't want to spend a ton of money upgrading to a larger vehicle but are interested in driving your car for money, consider looking into repairable salvage SUVs for sale. This is a way you can up your income possibilities without making a huge investment.
When it comes to making the most out of your driving time, paying attention to surges is crucial. Surges are times when there is a high demand for drivers and therefore the prices of rides go up. These surges might correlate to an event happening or a time of day where lots of people are commuting. The best part about surge fares is that you are guaranteed to make more money and you don't have to work any harder.
Another tip that drivers swear by is to avoid aimless driving. Driving around waiting for passengers is not only a waste of time but also is a waste of gas. Not to mention it puts unnecessary wear on your vehicle. Instead of driving around while you wait for riders to appear on the app try staying parked in an area you know will be busy soon.
An easy way to make more money is to be friendly! A great way to earn a bit more money is through the tipping system. Riders can tip their drivers if they want, so read the passenger for the kind of experience they want. Chat them up if they seem in the mood, or offer them bottled water and sealed snacks if you have some in the car. All of these things can help increase the size of your potential tip.
Additionally, taking advantage of programs like Repairable Salvage SUV's for Sale can help add to your income. In some cases where a driver's vehicle is damaged, the insurer can write it off and compensate the driver. These cars are often sold for salvage, or the car can be refurbished to a good enough condition that auto dealers may be able to re-sell it. Either way, a car owner can make some money off getting rid of their damaged vehicle.
Keep Your Vehicle Safe for Passengers
Studies have shown that over 75% of cars are in need of repair. If you're going to be driving your car for money, it is important that you take good care of your vehicle in order to ensure safety for your passengers. To begin with, you cannot drive for Uber or Lyft if your car does not pass the vehicle inspection. Furthermore, it is important that you have good upkeep of your vehicle so that you can continue to drive safely.
To begin, a quality automotive repair shop is not to be undervalued. It is important to have a shop that you know and trust, so that you can have a place to bring your vehicle at a moment's notice. This way, if your car is having issues, you don't need to spend pointless time searching for a repair shop. Additionally, you won't need to be worried about getting scammed out of your money.
Another key component to having a safe vehicle is regular car maintenance. In order to be sure that your car is in excellent condition, stay on top of oil changes and have your car regularly serviced. Furthermore, if your car is in need of auto repair, don't hesitate to take it in. It will be worth the wait of getting the work done to have a vehicle you know is safe for you and your riders.
Another part of keeping your car safe for your passengers and driving your car for money is making sure you have a safe place to park it every night. If possible, it is best to park your car in your garage. A garage will give your car the ultimate protection against the weather, damage from other vehicles, and potential car thieves. Parking your car on the street or in your driveway leaves it vulnerable to these threats. As you're going to be driving your car for money, it's going to be one of your most valuable assets and you need to protect that asset.
If you are keeping it in your garage, make sure that your garage is secure and works well. You may want to consider installing a keypad for opening and closing your garage door. You should also be sure that your garage door closes properly. If you need to fix your garage door, call a professional garage door company. They will be able to provide home garage door repair to ensure that your garage door always shuts securely and doesn't allow anything in that could damage your car.
Personal Injury Vs. Accident Attorneys
If you are interested in driving your car for money, it is important for you to know the difference between personal and accident lawyers. If a passenger is injured while in your vehicle, they may choose to contact one or the other. While technically both types of attorneys could help a passenger after a vehicle accident, a personal injury lawyer has a broader focus than an accident specific lawyer.
Other Ways to Make Money with Your Car
There are multiple ways you can drive your car for money. Some examples of these approaches can include:
Putting advertisements on your car
Food delivery
Hauling with your car
Renting your car out
It may sound weird but it's true: you can actually get paid to put advertisements on your car. Companies will pay drivers to drive around with an ad decal on their car, a process also known as "wrapping". The benefit of this money-making opportunity is that once the decal is on your car, you don't have to do anything and you can still be driving your car for money. However, some people don't like the fact that the decal has to always be on. Additionally, some advertisement campaigns have been known to be scams. Therefore, it is very important to do your research before you apply.
Another way you can make money with your car is by delivering food and groceries with store to door delivery apps. People today are using food delivery services more than ever before, and delivering meals and groceries is a great way to pad your income. Not to mention, similar to Uber and Lyft, you can receive tips through delivery apps, which is a great way to expand your profits.
If you own a pickup truck or larger vehicle, such as a dodge challenger, you might be interested in using your car to haul things for money. Companies like GoShare allow people to use the vehicles they already have to make extra money moving and delivering items. Uber and Lyft drivers may find this mode of work attractive, especially because you can decide when and where you want to work.
You can even make money off your car when you are not using it. Apps like Turo provide car owners with the opportunity to rent their car out to those in need of transportation. The sign up process is very similar to Uber and Lyft. Once your application is accepted, you can put your car up for rent whenever is most convenient for you. This can be another simple way to bring in more income.
Taking Control of Your Financial Security Through a Personal Driving Gig
Being your own boss and driving your car for money will always have its pros and cons, but being a rideshare driver is definitely a good way to earn money on your own time. Both Uber and Lyft provide their drivers with the insurance, support, and clients they need to have a successful business venture. Additionally, there are many tips and tricks that help drivers maximize their earnings without putting in unnecessary extra effort.
Regarding safety, both apps have excellent safety procedures and 911 buttons built into them. Additionally, it is important to understand what is covered by Uber and Lyft's insurance, and know when you might need to contact a personal injury lawyer. Lastly, don't forget to have your car regularly serviced and repaired, as this is one of the best ways to ensure the safety of you and your rider.
Driving your car for money doesn't have to stop with Uber and Lyft. As you can see there are a plethora of other apps and ways you can make money off your car. Things like food delivery services, car advertisements, and car hauling are all easy and accessible ways to make the most from your vehicle. It is true, driving your car for money is a gateway to many different opportunities!