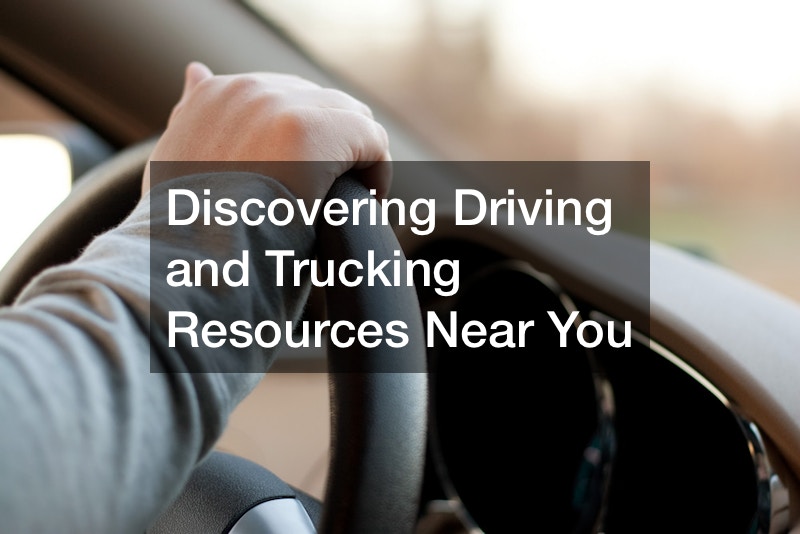 If you're on the road a lot, chances are you're putting a lot of strain on both your car and your mind. Truckers and long-distance drivers eventually need resources to help maintain their vehicle's health, their own health, and in order to be prepared for whatever challenges may arise while out on the open road. These resources are out there, but they may not always be obvious. You should be taking time to discover and research driving and trucking resources near you right, so you can access them when it's important. If you have a list of businesses and services that you'll use while on the road, it can provide some peace of mind and make it easier to manage the journey.
Finding the Right Mechanic
As a long-distance driver or trucker, maintaining your vehicle helps you feel safe and capable on the road, which gives you peace of mind. Set appointments with a trusted mechanic to conduct regular maintenance checks which are an absolute necessity to ensure the optimal performance of your vehicle. Set a date for a reminder on your phone if you tend to forget these things. These checks must include engine oil and filter changes, tire rotations and pressure checks, brake inspections, fluid level checks, and overall inspections of the vehicle's most important systems. As you are discovering driving and trucking resources near you, take note of good maintenance and repair shops with people you trust that are along the routes of your typical drives.
You'll need regular maintenance checks at recommended service intervals for your vehicle. Be sure to talk with your mechanic to learn more about how often these checks should be performed. This will help you stay on top of maintenance needs and anticipate future expenses, and keep your car or truck on the road longer.
Specialty Mechanics
Have you gotten used to seeing the 'check engine' light? Don't get complacent. Dealing with repairs quickly can prevent problems from snowballing into catastrophic situations. Ignoring warning signs can result in expensive repairs and potential safety hazards. Always consult your owner's manual or a trusted mechanic for advice if you notice any issues with your vehicle.
Finding a reliable mechanic is also essential, so choose a mechanic specializing in your type of vehicle. For example, if you drive a diesel Honda, the best mechanic is a diesel engine mechanic from one of the Honda repair shops. If you tow a damaged trailer, the ideal mechanic might specialize in trailer repairs. Check online reviews and ask other drivers or truckers for recommendations before making a final choice.
A specialized mechanic understands your vehicle in a way a general mechanic can't. In addition to solving problems, a specialized mechanic who deals regularly with vehicles like yours might be able to anticipate potential problems before they happen and make small tweaks or upgrades to increase your vehicle's performance and longevity. Although any mechanic can help you get your car or truck running again, it takes a specialized mechanic to tell you that a certain gasket has about another year in it, or that you can improve performance by changing the fuel or tires you use. Use available technology tools such as mobile apps like Trucker Path, which can help you locate repair shops and other services along your route, and telematics systems that monitor your vehicle's performance in real-time.
Being prepared is also crucial. Even if you have a great mechanic, they might not be able to rescue you at the side of the highway. Carry a toolkit of essentials and spare parts, like spare tires, fuses, and light bulbs, in case of emergencies. Additionally, having a first aid kit and emergency supplies like water and non-perishable food can be life-saving if you are stranded for an extended period.
Breakdowns are inevitable if you drive for long enough, so there is no excuse not to be prepared. Whether a breakdown occurs in your driveway, or on the highway in another state will have a big effect on how you handle the situation. In a best-case scenario, a local mechanic that you trust and who has specialized knowledge of your vehicle can perform quick repairs and have you on the road again soon. However, if you find yourself stuck in a snowstorm in a different city, you should be able to keep yourself safe while waiting for a tow truck.
Emergency Resources After a Breakdown
Every car or truck eventually breaks down. As you are discovering driving and trucking resources near you, make sure you think about worst-case scenarios and how you'll get out of them. What happens when the engine dies? You'll need roadside assistance at best, possibly a local heavy duty towing company with the right towing hitches, and at worst you'll be looking at an auto salvage. It's a wise idea to compile a list of these services in advance, to avoid being stranded on the road without help.
Roadside assistance is often included as part of insurance coverage. This service can be helpful in situations like tire changes, jump starts, and lockout services. You should check with your insurance company to know if roadside assistance is included and to understand the specific services covered.
Sometimes roadside assistance won't cover it, such as in the event of an accident that you can't just drive away from. Towing services can help move your vehicle to a repair shop or other location. Whether you are a long-distance driver or the driver of a commercial truck or other large vehicle, you should have the contact information for a reliable towing service.
When Your Vehicle is Beyond Repair
If your car or truck is totaled or in a lake, even a tow truck might not be enough. An auto salvage service can help you properly dispose of your vehicle if it's damaged beyond repair or deemed a total loss. Plus, these services can help you sell parts or scrap metal from your vehicle.
As you are discovering driving and trucking resources near you, it's a good idea to compile a list of these services in advance and keep it in your vehicle. That way, if an emergency arises, you can quickly access the list and contact the appropriate service provider. Before taking a long-distance trip, research the availability and coverage of roadside assistance and towing services along your route. You could also consider joining a national roadside assistance program, such as AAA, to receive coverage across the country.
After an Accident Occurs
What about the law? Whether you are a professional trucker or just a long-distance driver, you need to know what your rights are and what laws you must be following. As you are discovering driving and trucking resources near you, ask yourself what you need to know to stay legal on the highways and meet all regulations. Luckily, there are many legal organizations you'll find as you are discovering driving and trucking resources near you to help you figure it all out.
First, you should have the names of some auto accident attorneys. Whether or not a collision is your fault, you may need to go to court to defend yourself or seek damages from someone who crashed into you. Having a good lawyer who can understand all the facts and make a solid case in court can make all the difference.
Legal Resources for Truckers and Long-Distance Drivers
How do you know if you are breaking the law, when you cross so many state lines? Driving techniques and vehicles that are completely acceptable in one state or jurisdiction could get you pulled over and fined in another. With a patchwork of different laws and regulations, it can be difficult to know whether you are in the right or not, and what your rights are. Thankfully, there are plenty of resources you can consult, before or after you get pulled over.
Be sure to work with an auto accident attorney with experience practicing in your local court of law. This ensures you're working with a professional who's experienced with these types of cases and experience presenting these cases in front of local judges. Here are some other legal organizations that every long-distance driver or trucker should know about:
Department of Transportation (DOT): The DOT is a federal agency that oversees transportation policy and regulation across the United States. The big one. They manage the FMCSA and other agencies responsible for different modes of transportation. You probably don't need to call them directly, but their website has important information.
The Federal Motor Carrier Safety Administration (FMCSA): The FMCSA is a federal agency overseen by the DOT that regulates the safety of commercial motor vehicles (CMVs). They establish and enforce regulations relating to driver qualifications, service hours, equipment maintenance, and more.
Your Local State Transportation Department: Every state has a transportation department responsible for managing and regulating transportation within its boundaries. These departments can provide information on state-specific laws and regulations that may affect truckers and long-distance drivers. Remember that as you cross state lines, different laws apply.
The National Association of Small Trucking Companies (NASTC): The NASTC is an organization that promotes and advocates for small trucking companies, offering resources and support to its members. They provide legal support, compliance assistance, and other essential services.
Owner-Operator Independent Drivers Association (OOIDA): The OOIDA is an organization that advocates for the rights of independent owner-operators and small fleets. They offer legal aid, education and training programs, and other vital resources to members.
Truckers and long-distance drivers can also seek free or low-cost legal assistance by contacting local legal aid organizations. Legal aid services can help with issues like traffic violations, contract disputes, and employment law. Take the time to learn about which organizations are located nearest to you to ensure you're working with one who understands the local laws and regulations.
Having Experts Customize Your Vehicle
Make your car or truck your own, inside and out. If you work for a trucking company there might be rules to limit this, but if you're a long-distance driver, you could do a whole custom van conversion with auto tinting and a mini-fridge! Repaint, add new features, and change your ride in ways that make it home to you. You don't have to stop at customizing your vehicle, as by contacting a garage door contractor you can get an automatic opener if it makes your life easier. Driving long distances is hard enough, why not make it easier by liking what you drive?
Customization is easier than ever with local professionals. While it might be tempting to try to DIY your vehicle customization, this can lead to problems in the long run. Even cosmetic changes could end up affecting your vehicle's safety or performance, and making updates or repairs incorrectly could be dangerous. Make sure you work with people who know what they are doing to upgrade your vehicle.
With so many resources on hand, you shouldn't have to scramble at the last minute to find the resources you need to guarantee you'll be able to stay behind the wheel. If you think ahead, you can research and locate the best people to help you with every job and protect yourself from the worst the highway can bring. Discovering driving and trucking resources near you can transform your life, protect your future, and give you more joy and ease during those long hours of driving. Even if you're on a solo journey, you're not truly alone when you know qualified professionals who can help with every situation. Plan ahead and use all of these resources to drive safer, drive happier, and drive longer, whether you are a long-distance driver, a professional trucker, or just enjoy life on the road.