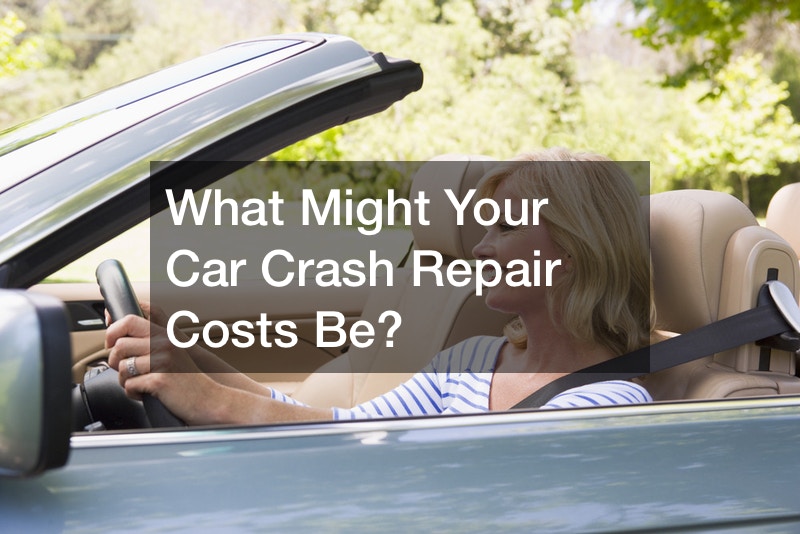 Despite having good drivers on the road, accidents do happen from time to time. And when they do, they come with some financial costs. While some of these costs are direct, others are indirect. On top of that, some expenses may be a one-off, and others are long-term. Either way, it will help if you understand car crash repair costs. It makes it easier for you to file a claim. Working with an accident lawyer can help you get a breakdown of the things you need to keep in mind. Here is a detailed list of car crash repair costs you can expect.
At The Scene of The Crash
Expenses start building up from the scene of the crash. You will need car towing services to take the car to the auto repair shop. This is a charged service, and on average, you can expect to pay about $100. If the distance to the repair shop is shorter, you might pay less than that. A distance of more than 50 miles may cost you anything between $125 to $350.
Insurance
There is also the car insurance quote which you will increase. If you were the driver at fault, that means your insurance company has to cover the repair damage and body injuries. The insurance quote you get from the insurance company is based on your risk profile. So, when you get involved in an accident, you are considered a more at-risk customer. That means your insurance rate goes higher. In most cases, the premium can rise by 10 to 40%. Most insurance experts advise drivers not to make claims when the car crash repair costs are minor, and they can cover from out of pocket.
Healthcare
If you have been injured, you will need to go to the hospital to get checked. Healthcare costs start from the ambulance ride to the hospital. There are also medical tests, emergency room treatments, medication, surgeries, doctor visits, and medical devices. All these are car crash repair costs you will have to pay for. In worst-case scenarios, if the injury is serious, you will also need ongoing medical care like physical therapy.
Fixing Your Car
Most car crashes come with substantial damage to the car. Here, car crash repair costs can come from minor dents or extensive damage that is too costly to repair. Despite how damaged the car is, you will either have to repair it or buy a new car. If your insurance policy does not cover repairs to your vehicle, you have to request an auto repair service and cover the cost out of pocket. However, it is good to contact several car repair workshops and get quotes. Depending on the damage and the model of the car, you will get an idea of the costs you will incur. Some car models are more expensive than others, which makes their repairs costly. Models like Audi, Porsche, and Mercedes are costly to buy and maintain. These are German cars, and generally, German car repairs are expensive.
Paint Damage
After a car crash, the paintwork on your car may be chipped, scuffed, or scratched. When an accident happens, your car's surface gets scraped against another hard object, making the paint come off. If the crash was not severe, then the car crash repair costs may not have been high. There is the chance that it is not the top layer that was damaged, which means it can easily be fixed, and you will have your car back in a day. If the paint has been removed completely, then it will need some additional bodywork repair before the painting is done.
Consider vehicle wrapping if you want to cover the old paint. New paint can be expensive. It will make your car look brand new again but at an affordable cost. The process also takes a shorter time, and you will have your car back in one or two days.
Frame Straightening and Dents
In a severe car crash, your car's framework may be crumpled, meaning the damage is significant. You will need a mechanic to assess the car to have the frame straightened. In the process of evaluating the damage done, they can also give you an estimate of what it will cost you to repair the car. The frame supports various vehicle components like the engine and transmission. That is why it is important to restore it to its original shape to ensure weight is distributed evenly.
Dent repairs depend on the extent of the metal bodywork damage. For instance, when a dent is extreme, the whole section will have to be replaced with a new part. If the dent is minimal, the technician will simply use a stud welder or dent puller to suction the dent back to its original place. If the dents are many, the process will take longer, and the repair needed might be more intensive.
Panel and Glass Replacement
Panel replacement involves replacing whole pieces of a car's exterior framework like the hood, door, bumper, and trunk lid. This is often done when the dents are so severe that dent repair tools will not cut them. Some car models are intentionally built to crumple on impact to protect passengers from getting injured. The mechanic will have to source a body panel for your car model and replace the damaged one.
One of the simple repairs to your car involves replacing windscreens. If the entire glass panel has been smashed, the whole windscreen has to be removed and replaced with a new one.
Bumper Repair
After an accident, do not ignore a damaged bumper. Without repairs, it is likely to get worse. Even if you are trying to avoid multiple car crash repair costs, do not take the chance. A broken bumper fails to protect your car from another accident adequately.
Headlights
Replacing headlights is also easy to have done. In some instances, maybe it is only the bulb that needs replacing, while in other cases, the entire headlight will have to be removed and replaced with a new one.
While You Wait for Repairs
If your car has been severely damaged, it will have to stay at the repair shop for some time to get repaired. That means you will have to look for other alternatives whose means of transport are likely to cost you money. Here are some alternatives to consider.
You can decide to take a taxi every day to work or school till the car is fixed. However, this may not be a costly alternative, especially if multiple family members rely on the car.
Town car services: Another alternative to consider is town car services. They are reliable, fast and comfortable. The major shortcoming is the cost that comes with hiring one. Again, if multiple family members depend on the car, the cost of using town car services would be higher.
Car rental: You can choose to rent a car as you wait for your car to be fixed. It is convenient because once you have rented the car, it becomes yours temporarily.
Public transport: You can also choose to use a train or bus to work or school. The only problem is that you work with the schedule of the bus or the train and not whenever.
Either way, these are some car crash repair costs you will have to deal with. It brings some inconvenience, messes up with your schedule, and you will have to part with some cash to pay for these services.
Suing For Damages
Other car crash repair costs come in legal form. While not all car accidents result in lawsuits, you will have to take legal action in some circumstances. For instance, if you have filed a claim with your insurance company after a car accident that has been denied, or you are being offered a low settlement, you may want to consider legal action.
You ought to be compensated for the damages you have incurred from an accident. This includes repairs to your vehicle and medical expenses for treating your injuries. The worse the injury, the more compensation you should get for damages. It is in your best interest to work with a car accident attorney when going against an insurance company. The attorney has handled previous cases like yours, knows the tricks insurance companies use and will help you get a worthy settlement.
If you require a collision repair service, but your insurance company is paying you a lower amount, an attorney can still help you. They will represent you and ensure you get the compensation you deserve.
Find Inexpensive Solutions
It is no secret that auto repairs are pretty expensive when you factor in parts and labor. It is good to explore inexpensive solutions to cut down on car crash repair costs. Here are some tips that can help you down the line. If the mechanic tells you that your car needs new parts, do your research first. Go online and research various reputable auto part dealers. You may find a mechanic quoting a certain price, only to go online and find the exact part for less than about $100.
Buy Used Parts
Used auto parts are not necessarily bad, and they can get the job done. However, they can be tricky as you do not know the quality of the part you are buying. To be safe, look for a seller with a good reputation. You can also ask about the history of the used car part. It can give you a picture of how long you can expect the part to serve you.
Take Advantage of Warranties
Before you go and start buying car parts, check your warranty and see if it is still valid and what is covered there. Sometimes, you can even get a warranty on labor so that you are only paying for parts. This is a good option to consider reducing car crash repair costs.
Work With a Trusted Mechanic
Not all mechanics are honest. Some are ridiculously costly, while others go as far as charging you for a service you did not need in the first place. That being said, there are many hardworking and decent mechanics that will not try to rip you off. Find a good mechanic you can trust with your car. Even when you are not dealing with repairs, they can still provide general services.
Learn to DIY
While you may not be able to do everything yourself, there are a few things you can learn to do to cut the costs of going to a repair shop. This includes replacing air filters, fuses, headlights, batteries and changing the windshield wiper blades. You can then leave the major tasks to the professionals.
Take Care of Your Car When It's Ready
Once your car is repaired, your goal should be to avoid other car crash repair costs. After a repainting job, most body shops recommend you wait for a while before washing your car. That is because the paint is still soft and is yet to cure properly. While high-pressure washing may be out of the question, a manual car wash is okay as long as you avoid harsh cleaning products.
Another way to take care of your car is by regularly changing the oil and filter. Once your car has been in an accident, it is now more vulnerable than before. By changing oil and filter, you can prevent dirt and oil from building up, hence prolonging its life.
Do not forget to drive your car carefully and to schedule maintenance checks. Most accidents can easily be avoided if more drivers pay attention to the road. Keep up with maintenance checks as they allow the mechanic to find faults before escalating and becoming costly repairs.
Most people underestimate car crash repair costs. However, even a minor car accident where no one has been injured can still result in higher financial losses than you imagined. The better you understand the cost you can incur, the better prepared you will be if you ever find yourself in such a situation.